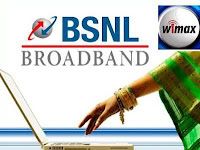 State run PSU Major Bharat Sanchar Nigam Ltd(BSNL) extend its 20% Discount scheme to Central Govt./ State Govt./PSUs employees, visually impaired, BSNL staff and retired Govt./PSU employees on 4G based High Speed Wireless Broadband Services (WiMAX) Services.
The 20% discount on usage and rental for WiMAX postpaid connections provided on WiMAX Plans WI 70 (Limited 4GB upto 2 Mbps) and HOWI 750 (Unlimited- 512 Kbps), while 20% will not be applicable if WiMAX Broadband subscriber is already using any special discount/concession.
BSNL WiMAX 20% discount is one major step in order to boost the acquisition and usage of WiMAX Broadband among Government staffs on Broadband Service charges (usage and rental) for Broadband connections provided to Central Government/ State Government/ PSU Employees category. The New scheme is applicable from 1st April 2012.